The 57th Tartan Ball will be held
February 15, 2020
, in the gorgeous Brûlé Ballrooms of The Old Mill, 21 Old Mill Road, Toronto
<map>
You can look at the venue here:  www.oldmilltoronto.com  1.866.653.6455 

The Old Mill offers special Tartan Ball room rates of just $219 for reservations made before January 15, 2020.

Contact Room Reservations 416-232-3707

and specify group name "Tartan Ball".


Tartan Ball* — Order of Events

• Reception (cash bar) - 6:00 pm

• Dinner - 7:00 pm

• Grand March - 9:00 pm

•Dancing to the music of Scotch Mist into the wee hours

* Dress Code is Formal


Tickets are available, three options:

•Via PayPal: https://form.jotform.com/83365810978974


•Via E-Transfer: https://form.jotform.com/93055304763961


•Via Paper • Pen • Post:  2020-Tartan-Ball-Registration.pdf

Three Sunday Afternoon Ball Practices, 2-4pm:  $7/session

Parkway Forest Community Centre <map>
55 Forest Manor Road Toronto M2J 0C2  416.392-6383

• Jan 26th • Feb 2nd • Feb 9th

Please reserve your spot with Laurie McConachie

Other special classes listed: What's On Near


.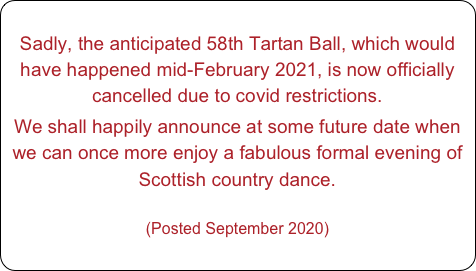 • EH3 7AF  • The Cabrach  • The Highlandman's Umbrella  • City Lights  • Gang the Same Gate  • Starlight  ~Interval~  • The Edinburgh Toy Shop  • Ice Crystals  • Polharrow Burn  • Green Grow the Rashes  • The Inimitable Derek  ~Interval~  • The Wild Geese  • The Orchards of County Armagh  • Over the Water to Charlie  • The Banks of Clyde  • The Reel of the Royal Scots   Extras:  • Flowers of Edinburgh  • Sandy O'er the Lea  • Miss Allie Anderson